Leading company receives '5 Star Award' for its Central Business District projects and Champions Tower III
November 29, 2011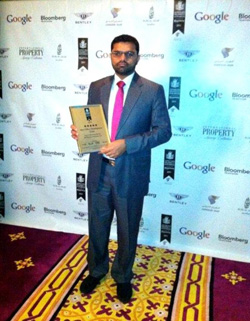 Memon Investments, a leading Dubai-based property developer and part of the international business conglomerate, Shaikhani Group, has won three major awards during this year's edition of the 'Arabian Property Awards 2011,' one of the world's most prestigious real estate competitions, which was held recently on November 17, 2011 at the Burj Al Arab Hotel in Dubai. The leading company grabbed '5 Star Awards' for 'Best Office Development' and 'Highly Recommended Retail Development' for its Central Business District (CBC) projects and the 'Highly Commended Development (Multiple Units) for Residential Properties' for the Champions Tower III (CTIII) project. Present to receive the awards during the awarding ceremonies was Muhammad Ahmed Shaikhani, Managing Director, Memon Investments. The awards demonstrate Memon Investments continued commitment towards creating world class development projects and move to redefine the UAE's real estate sector.
The Arabian Property Awards is the regional counterpart of the International Commercial Property Awards, which has earned the distinction of being the property industry's most prestigious award program. The awards are open to residential and commercial property projects and professionals in the Arabian region. This year's edition featured 13 categories with all '5 Star Award' winners to be re-judged for short listing in the 'Best International Property Award' for each category. Up to five nominations from the shortlist will be selected and only one company will win the top prize. This year's judging panel was made up of more than 80 industry professionals whose collective knowledge of the property industry is unmatched by any other property awards. Judges included James Bacon, UK Account Manager of Google; Peter Bolton King, Group Chief Executive of the National Federation of Property Professionals; David Dalby of the Royal Institute of Chartered Surveyors (RICS) and Mike McNamara of the Royal Bank of Scotland (RBS).
"We are very humbled and honoured to have won these three awards from this year's edition of the Arabian Property Awards," said Muhammad Ahmed Shaikhani, Managing Director, Memon Investments. "These awards not only serve as testament to our continued move to redefine the country's real estate segment but also add significance and distinction to our award-winning property development portfolio. Rest assured that we will further be inspired to developing some of the country's world class luxurious residential, commercial and retail development projects."
During the event, Memon Investments shared that Champions Tower I (CTI), the first of the four Champions Towers, will be delivered to its customers in the first quarter of 2012. The company has also revealed that the remaining three Champions Towers and the Frankfurt Sports Tower are on track to meet their set deadlines. At present, Memon Investments UAE portfolio is composed of prestigious residential projects including 'Champions Towers I, II, III, and IV' and 'Frankfurt Sports Tower I' in Dubai Sports City; 'Gardenia I & II' in Jumeirah Village, and its inaugural commercial venture -'Cambridge Business Centre' in Dubai Silicon Oasis, all of which embody the developer's trademark top-notch quality and uniqueness.
"The country's construction market is slowly making its way towards recovering from the recent downturn, which is evident in the influx of projects and the resumption of projects that were stalled as a result of the crisis. As part of our move to become a major part of the country's move towards development, we are pleased to report that all of our projects are moving at a pace that will allow us to confidently meet our scheduled deadlines. Projects like Champions Towers, Frankfurt Sports Tower and the Cambridge Business Centre, aims at giving a clear vision of our objective to provide the country with world-class property development projects that meet the demands of our intended target audience," concluded Shaikhani.