The Shaikhani Group's portfolio has some striking projects such as the Champions Towers series, Frankfurt Sports Tower and others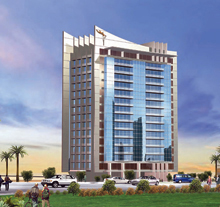 WITH the handover of Champions Tower One due this month in Dubai, UAE, the Shaikhani Group is poised to mark a major milestone in its ambition plans for the development of its renowned Champions Towers series in Dubai Sports City (DSC).
In addition, two other striking members of this four-tower series of sports-themed buildings are due for handover this year with the last tower slated for completion by the end of 2015.
With this flagship series of projects, the UAE-based real estate group aims to set up state-of-the-art facilities that would support both luxury living and a healthy lifestyle.
The series comprises the Dh75-million ($20.4 million) Champions Tower One; the Dh110-million ($30 million) Champions Tower Two, which is scheduled for delivery in December; the Dh145-million ($39.5 million) Champions Tower Three, targeted for handover at the end of September; and the Dh450-million ($122.5-million) Champions Tower Four, which is expected to see completion by December 2015.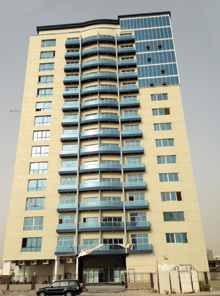 This apart, the Shaikhani Group is pushing ahead with the Dh338-million ($92 million) Frankfurt Sports Tower – also located in the DSC – which is earmarked to be handed over this July; and the Cambridge Business Centre in Dubai Silicon Oasis.
"The Champions Towers series promises the perfect balance between luxurious living and an active lifestyle. All towers are created by the renowned architectural and engineering firm Adnan Saffarini, offering unrivalled apartment living at the very heart of action," says Mahmood Abubaker Shaikhani, director, Shaikhani Group, which is commemorating its 35th year of delivering offerings and services to its global customers.
All towers are sport-integrated freehold residential towers with a choice of spacious studios, one-, two- and three-bedroom apartments.
"The towers offer breathtaking views of the golf course, garden, canal and stadium, and every inch of living space has been planned to match the client's personality and highest aspiration," Shaikhani explains.
"Apart from the themes we have chosen, the community also plays a vital role in the concept. Since DSC is a sporting city, we want all our customers/investors to be healthy by indulging in various sporting events for themselves and their family," he adds.
Other amenities include a concierge desk, rooftop health club, communal swimming pool, party hall, outdoor terrace, rooftop juice bar, spa, steam, sauna, Jacuzzi, separate gymnasiums for men and women and health club lounge.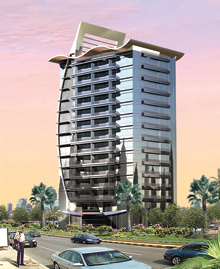 The contracting company for the Champions Towers under way is Al Sarh Contracting while Adnan Saffarini is the consultant. Meanwhile, Ost Constructional Projects is the contractor for Frankfurt Sports Tower with Al Hatmy Engineering as the consultant.
Giving further details about each project, Shaikhani says the Champions Tower One has a basement car-parking level, a ground floor, 14 upper floors and a gymnasium comprising 135 studio, one-, two- and three-bedrooms units.
"Incorporating a wave-styled rooftop, Champions Tower Two is a residential tower comprising a basement level, a ground floor, 13 additional floors and a health club, housing 172 studio, one-bedroom and two-bedroom apartments. Champions Tower Three features a basement level, a ground floor, 15 upper floors and a health club offering a total of 25 studio, one- and two-bedrooms units; and Tower Four comprises a basement level, a ground floor, 19 upper floors and health club, providing 266 studio, one- and two-bedrooms units."
With Champions Tower One now almost complete, Shaikhani says the external work is now in progress on Champions Towers Two and Three, following the completion of the structural work. Work on Champions Towers Four is currently at level 14.
Meanwhile, work on Frankfurt Sports Tower is 79 per cent complete with internal and external finishing work in progress. The tower offers a basement level, a ground floor, 14 upper floors and a health club, and consists of a mix of studio, one- and two-bedrooms units.
Apart from its developments in the Dubai Sports City, the company is also building the Dh80-million ($21.78 million) Cambridge Business Centre in Dubai Silicon Oasis. This commercial freehold development features two basement levels, a ground floor, nine upper levels and a health club, consisting of a mix of 116 small, medium and large offices, and retail shops on the ground floor. The main structure of this mid-rise building has been completed, with internal finishing work currently under way, according to Shaikhani.
The Shaikhani Group has three other freehold mixed-use developments planned for Jumeirah Village South. These include the Dh150-million ($40.8 million) Gardenia Residency, a four-storey mid-rise (with a basement and ground level) comprising 132 studios, one-, two- and three-bedroom units, lofts and retail space; the Dh200-million ($54.45 million) Gardenia Residency Three, featuring three basement levels, a ground floor, three podium levels above which are 13 upper levels accommodating studio, one- and two-bedroom units; and the Dh320-million ($87.12 million) Gardenia Residency Four, comprising three basement levels, a ground floor, four podium levels, 27 upper levels and a retail level offering studio, one-, two- and three-bedroom units, and retail spaces.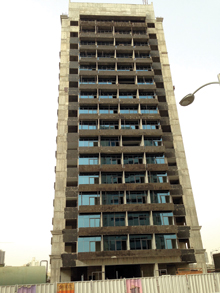 Commenting on the potential offered by the UAE real estate market, Shaikhani says: "Currently, the market comprises buyers who are genuine end-users/investors. In view of the Dubai Land Department's new rules and regulations put in place recently, there is no room for any speculation in the market.
"We are educating and guiding our customers about the market and about the importance of being very transparent in dealings, which will bring trust back and further growth in the UAE property sector."
Set up in 1978, the Shaikhani Group has delivered more than 30,000 units across the globe, and currently maintains a presence in 90 countries in Asia, Africa, the Middle East and Europe. The group boasts extensive expertise in the real estate market, construction, manufacturing, trading and IT sectors.
The company attributes its success to its focus on customer satisfaction, delivering high quality structures, and offering lucrative investment opportunities to its customer
In addition to its success in business, the group has also built a sound reputation for its CSR (corporate social responsibility) offering support for various causes such as poverty alleviation, environmental cheap sexy dresses conservation and academic development.
"As a socially aware international corporation, the group has devoted 19 years in support of the Rabia Charitable Foundation which is now known as Shaikhani Foundation," Shaikhani emphasises.
Mr Mahmood Shaikhani
Group Director Shaikhani Group

Exclusive interview
Gulf Construction Magazine
May 2014
Link Here: Gulf Construction